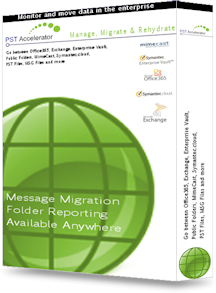 We are pleased to announce that our latest release is now ready for download.
Release Details
Version: 2.7.16 Release Date: 14 November 2017
Release Notes
A new version of redemption has been released. This brings the following updates and fixes:
added – increased logging for Enterprise Vault to Office365 migration.
added – ability to specify multiple service accounts when migrating to or from Office 365. This helps to work around throttling limits.
fixed – total count for Awaiting Intervention queue now correct when retry count has previously been changed.
added – PST Discovery to include only those listed with a discovery status of undetermined. This allows PST files that are discovered from other sources to be verified.
added – option to use multiple remote agents when in central migration mode.
Downloads
Please log into the reseller portal in order to download the software.